Molly Blane
Portrayed by Regina Taylor

'
Biographical information

Name

Molly Blane

Status

Alive

Origin

America

Profession

Housewife

Children

Betsy Blane

Behind the scenes

First appearance

First Responders
Molly Blane is the wife of Jonas Blane. She is portrayed by American actress Regina Taylor. In the beginning of the series she works in real estate, but later on she changes jobs and works for a private military company called "Blackthorne Security". She and Jonas have been married for quite some time, as evidenced by their adult daughter, Betsy Blane, attending college and later enlisting as an army medic during the course of the show. She respects and cares about her husband's job, and eventually leaves Jonas at the end of The Unit series so Jonas doesn't have to quit. When young Kim Brown joins the army wives, more experienced Molly takes her under her wing and shows her how the Unit wives live.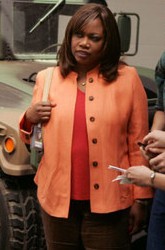 Ad blocker interference detected!
Wikia is a free-to-use site that makes money from advertising. We have a modified experience for viewers using ad blockers

Wikia is not accessible if you've made further modifications. Remove the custom ad blocker rule(s) and the page will load as expected.